Today we left Florence and headed up the Oregon coast on Hwy 101.  It is a beautiful scenic highway that hugs the coast meandering through small towns.  We stopped for a few hours in Depoe Bay for a hope to see a Gray Whale.  No such luck… but we had fun looking.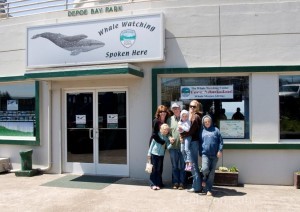 Whale watching visitors center.  They are on the ocean and have three levels of look outs over the water.  They had three whale sightings the day we were there.  Summer is the peak time to see the whales.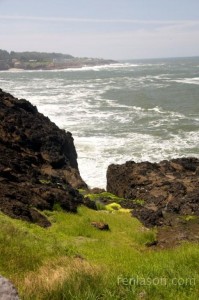 Depoe Bay looking for whales.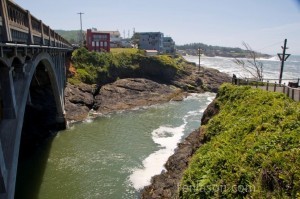 Depoe Bay claims to have the worlds smallest inlet/harbor.  It is only 50 feet wide and 5 feet deep.  It was interesting to watch the big fishing boats navigate the inlet in the waves.  I'll stick to the St. Lucie Inlet!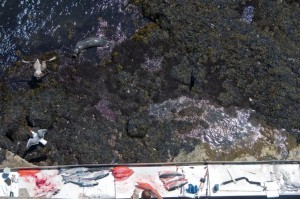 As the fishing boats came in they cleaned the Salmon by the water.  Notice the beggars (birds and the seal!)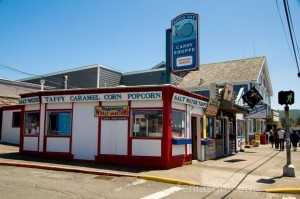 Nice quaint town with fun shops, restaurants, & Rochelle's favorite… candy stores.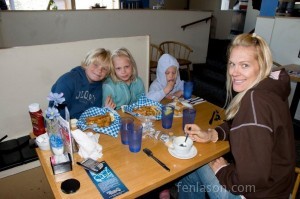 Stopped for lunch at a fun restaurant.  Kids ate fish & chips, Rochelle had fish tacos, and I had a crab melt sandwich.  Yummy!!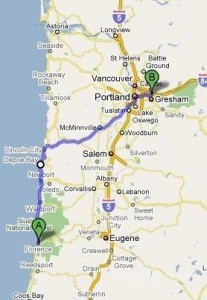 We left Depoe Bay and headed to Portland, Oregon spending the night at Camping World.
Route Day 28