Today we left Bellevue, WA and drove 3.5 hours west to Port Angeles, WA.  Port Angeles is located at an entrance to Olympic National Park and on the Strait of  Juan de Fuca.  We found a great campground in the woods.  This kids had fun playing on the playground and riding bikes with other kids.  After dinner we took a hike around the Elwha Dam (this will be the first dam in U.S. history to be removed in order to enhance a salmon run.)  Next we drove to the waterfront to watch the sunset.  We could see Canada across the water.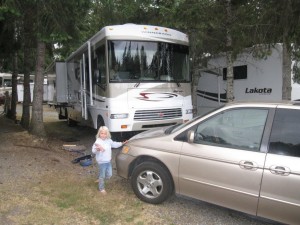 Alyssa in front of our motor home.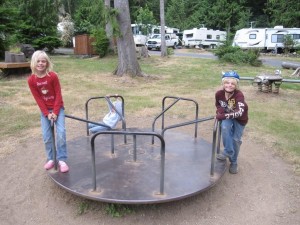 Kids playing at the RV park's playground.  Notice Jordan's crash helmet.  Carlye can give one mean spin!!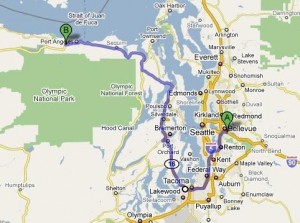 Route Day 38 (Bellevue WA to Port Angeles WA)