This morning we went to the Gunnison Saturday Farmer's Market and sampled fresh-baked bread, local honey, cookies, and lemonade.  Jordan got lots of attention from his pet on his shoulder.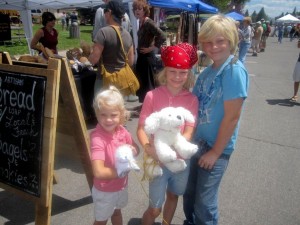 And the girls got a few stares and chuckles from people who momentarily thought the stuffed pets were real.
We were pretty lucky to be in town during the 109th annual "Cattlemen's Days" rodeo.
The kids were amazed at how much people were bidding for  these 4-H animals.  They started thinking this might be a great way to raise some money . . . the fort in our backyard is sitting empty right now so . . .
One cow weighing  1,178 lbs. was purchased for $4.78/lb.
This sow (above right) sold for $11/lb.  Interesting stuff, huh.
We arrived 40 minutes early to get these great seats.  The rodeo MC proclaimed the USA the best country in the world and our best freedom–the freedom of religion.  Then He prayed a mighty powerful prayer and closed it in the name of Jesus!  Gotta love country style.