Today we left Vernal, Utah and drove to Gunnison, Colorado.
But we just couldn't seem to escape the craziness of all the dinosaur madness of the past two days.
Z, Grip, & Blink enjoying our trip on the warm dashboard (left).  They had some fun (I think) riding the dinos thanks to Jordan & Carlye.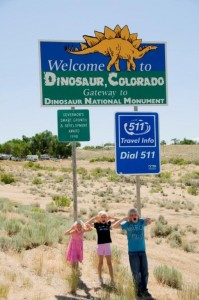 We made a stop as we passed through Dinosaur, Colorado… how fun is this!  🙂
We parked our motor home in the middle of the road (Dinosaur, Colorado isn't quite as busy as Seattle was) to get some shots with the ugly dinosaur that Dinosaur, Colorado chose as their dino landmark.
We were able to get a last-minute spot at a "member's only" RV Park that had a huge indoor pool, outdoor mini golf, playground, and "teen center" where everyone in the family was actually welcomed.  We played outside til it was too dark . . . and Rochelle tired of Jordan beating her at mini golf 🙂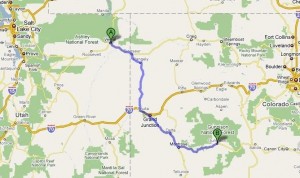 Route Day 49 (Vernal, UT to Gunnison, CO)