Today was a great and relaxing day.  We drove about an hour north to Flaming Gorge National Recreation Area and toured the dam's visitor center (Rochelle loves visitor's centers).  Next we went to down from the dam into the Green River.  Jordan & I fly fished while the girls relaxed in the river.  It was in the low 90's.  Perfect weather for a cool river.
Jordan & I fly fishing the Green River.
Utah's Green River, which flows from Flaming Gorge Reservoir, is one of the finest trout waters in the United States. The river consists of a trout population averaging 6000-8000 fish per mile. It flows through a deep beautiful canyon whose walls rise from the banks over three hundred feet strait up in many areas. Large brown, rainbow, cutthroat and hybrid trout all flourish in this big-tail water fishery.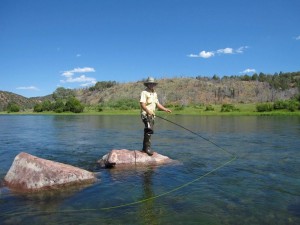 I guess the 6,000 – 8,000 trout per mile all went around my artificial flies and grasshoppers…  I didn't catch any fish, but I watched about six nice brown trout get landed.  The average trout caught is 16 inches.  Maybe next time.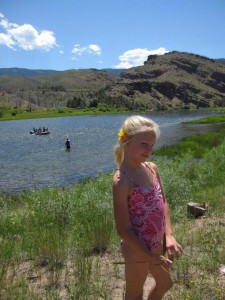 Carlye acted as "tour guide" leading Alyssa & Rochelle down paths in & out of the river.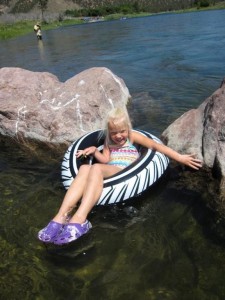 What we thought was a deflated beach ball at the bottom our big beach bag turned out to be long-forgotten floating tube.  It became the highlight of the kids' day at the Green River.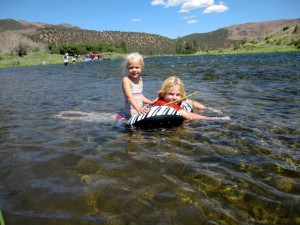 Jordan discovered the current would float him right to the safety of the boat launch–he provided lots of fun for his sisters!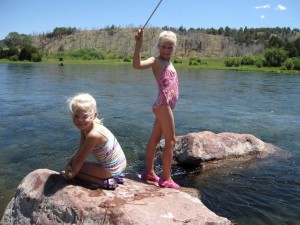 Rochelle took all the pics today that's why she isn't in any of them.  It was a great relaxing family day in Utah!  Tomorrow we're not exactly sure where we'll go.  It's SO HOT everywhere around here . . . Alaska sounds pretty good 🙂