This pink dinosaur welcomed us to the city limits of Vernal, UT.  It had an odd affect on our family (as you can tell from the picture below) we all started feeling a little savage.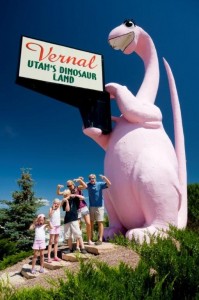 Actually it made us all feel a little goofy and we made it our goal to get a picture with many of the dinos we found on our way out to Dinosaur National Monument.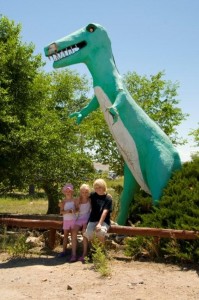 The "Iwannahuggysaurus"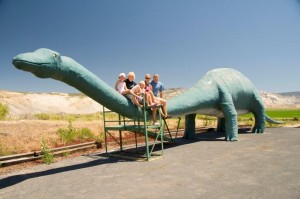 The "Ohmyneckhurtsasaurus"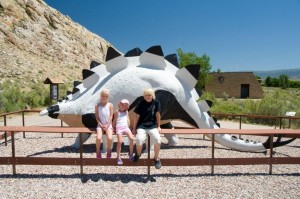 The "Wheredoifitmybrainosaurus"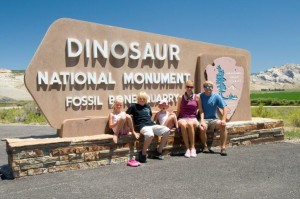 One more more National Park under our belt!
The kids are looking at fossils in the Morrison Formation.  Here paleontologists discovered fossils representing 10 different species of dinosaurs, ranging in size from about 7 inches to 76 feet!    Jordan's right hand is on a fossil leg bone from a dinosaur embedded in the rock face.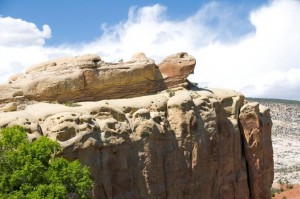 "Turtle Rock" in Dinosaur National Monument Park.  I wonder where they got this name from…
On this rock face you can see some petroglyphs.  The easiest to see is the lizard in the center.  They were supposedly made 1,000 years ago by the Fremont Indian Tribe.  Did you find the lizard yet?  Hint: The black was etched away to create the white image of the lizard.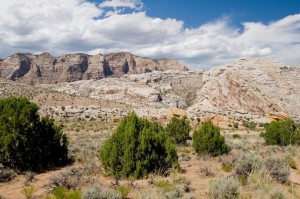 "Split Mountain"  so named due to the Green River splitting it in two.  This terrain is representative of most of south eastern Utah (remember Days 5,6,&7 Moab,UT–Canyonlands & Arches N.P.)  I never would have thought red dirt and rocks could be so enchanting.
(left) The kids getting their Junior Ranger Badges and Paleontologist Badges after completing two ranger books each about the park and dinosaur history.
It was a dry and dusty day.  On the way back into town the local bank sign read 96 degrees.  Tomorrow we'll appreciate the heat more as we hang out by the river in Flaming Gorge.