Today we had to move to another RV park in Ouray because they had no space for tonight.  They told us the last week in July and first in August are the busiest time of the whole year.  We checked into "4 J's Campground."  We have stayed here a few times before.  We can walk to downtown and to the Ouray Hot Springs Pool (Rochelle and the kids favorite).
Jordan, Carlye, & Alyssa having a blast at the Ouray Hot Springs Pool.  The hot springs pool is approximately 750,000 gallons and there are three temperature levels: 1) cool enough for lap swimming; 2) intermediate, good for resting; and 3) hot tub temperature.
Below are a few pictures I took just after sunset.
(left) Red Mountain Creek – Ouray (right) Deer amongst the Poplars in Ironton Park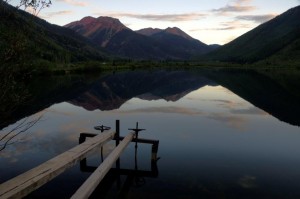 Crystal Lake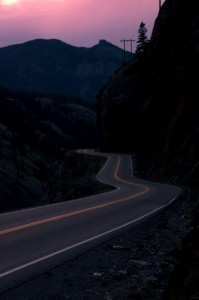 Million Dollar Highway at Night
Tomorrow we are leaving Ouray and heading to Leadville (not because we want to, but because all the RV Parks are full!)  Next time we need to reserve a place earlier…