Ouray has earned the much-deserved reputation as the "Jeeping Capital of the World".  Jeep roads, rated from easy to difficult, traverse a variety of terrain from extreme high mountain passes and rugged winding roads to areas of spectacular wildflowers that blanket the ground throughout the spring and summer.
Today we got up early excited about jeeping in the San Juan Mountains!
Our Rubicon headed to Engineer Mountain through the Engineer Pass.
Alpine Loop Trail… a little rougher than the roads in Florida but the Rubicon handles it without a problem.
This is when we pray that someone isn't coming from the other direction.  These are all two way roads…
We stopped at a field of wildflowers so the girls could pick a few (OK… and so I could take some pictures)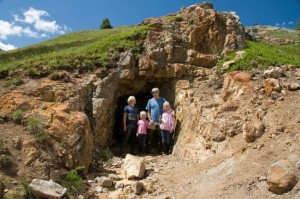 This abandoned gold mine is just off the trail.  We actually found this on our last trip here in 2007 and could only go in a little due to mud and water in the mine.  This time we brought boots and flashlights so we could explore a little more.  We decided to only go in about 100 yards after people warned us about possible bad air in the mine.
The girls are having lunch on the jeep (left).  Cleaning our waders after going into the mine (right).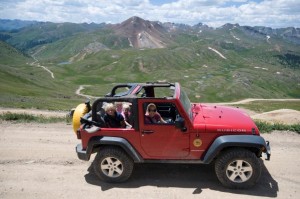 We continued on Engineer Pass to "Oh Point" on Engineer Mountain.
Amazing long range view!
View of "Oh Point."  And… no… we weren't about to fall off the cliff as Alyssa said.  🙂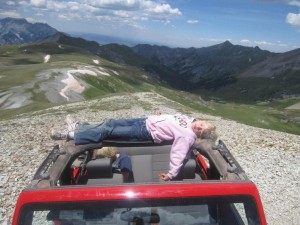 On top of Engineer Mountain about 11,800 feet in elevation.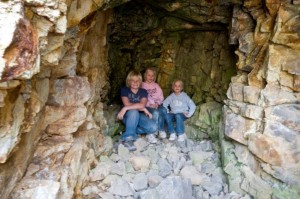 Beginning of a gold or silver mine.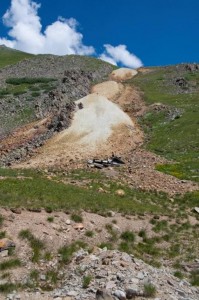 Above you see gold mine tailings on the mountain side.  They are everywhere–left over from the gold rush.
Below is the Animas Forks ghost town.
One highlight on the Alpine Loop is the historic mining town of Animas Forks, named for the three forks of the Animas River, which flows through the townsite. Animas Forks is tucked away twelve miles northeast of Silverton, Colorado, at 11,200 feet — more than two miles — above sea level.   Silver was first discovered in the Animas Forks area in 1875.  In 1884 the town had a population of 400 during the summer and it dropped to 12 men, 3 women, and 20 dogs during the winter.  In the lake 1880's it had a peak population of 1,500, but was nearly deserted by 1901.
Kids playing in the ghost town buildings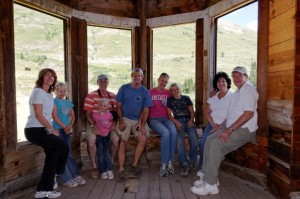 We are on the second floor in a bay window of one of Animas Fork's wealthy residents homes.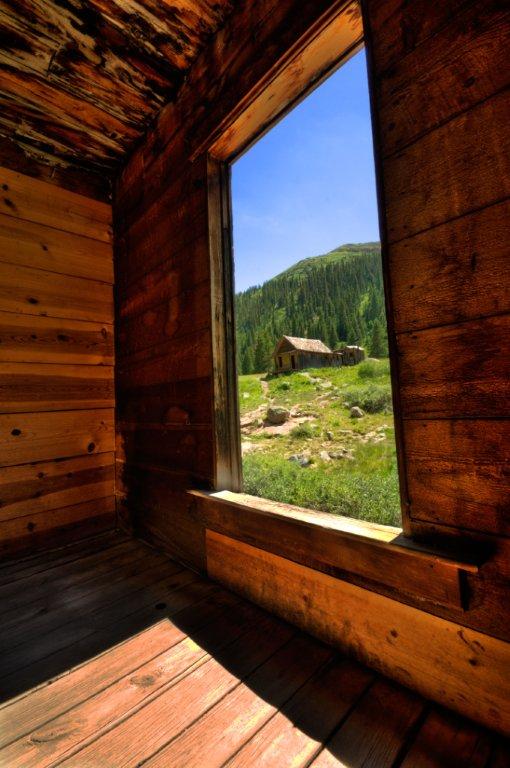 This photograph is out the window of a home in the Animas Forks ghost town.  I took six pictures and combined them together to the the proper exposure of both inside and outside of the 1880's abandoned home.
Heading back on Corkscrew Gulch to return our Rubicon. 🙁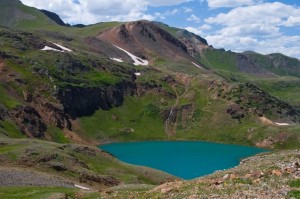 Beautiful turquoise color mountain lake near Hurricane Pass.
We all had a amazingly fun time and didn't want to go back…