Thursday morning we woke up to see another rainy day and we made the decision to head home.
The map below shows our 3-day,  2,078 mile route from Denver to Stuart, FL.  We took the northern route out of Denver so we could see the beautiful state of Nebraska–one of two states we haven't been in out west.
We would like to thank everyone for reading our blog.  We feel blessed to have such great family and friends.
And a special thanks to you who left comments on the blog–you know who you are 😉
I must say . . . there's no place like home.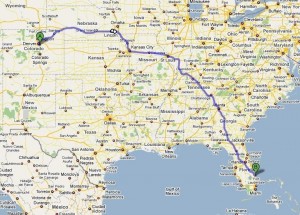 We will continue the blog at such time as we embark on yet another adventure.  To be continued some time in the future . . .
Praise God from whom all blessings flow!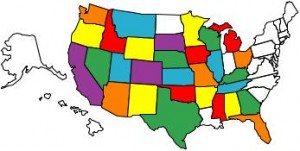 Our motor home "Visited States Map" through 2009 (maybe an East Coast trip will be next).