Today we drove from Oklahoma City, OK to Albuquerque, NM.  The drive was the best so far.  The air outside was so cool we didn't need to run the A/C and generator in the motor home.
Near Amarillo in a small town called Groom we saw the second largest cross in the Western Hemisphere.  It is 190 feet tall and you can see it from 25 miles away!  Thanks Ken & Jennifer for the heads up on this or we might have missed it!  🙂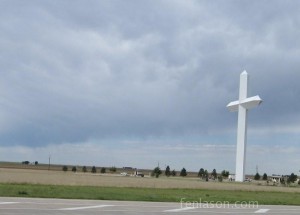 We found a great RV Campground just outside of Albuquerque for just $14 (half off with our Campclubusa.com)!  After settling in we headed off to the Historic Route 66.  Albuquerque is the largest city in New Mexico and owes its explosive growth to the economic boom that Route 66 brought during its Golden Age.  So we were on a quest to find an old style hamburger joint and a diner for a old fashion malt.
Huge hamburgers for only $2.25 each!
We each enjoyed a malt milkshake at the Route 66 Diner.
Classic Route 66 Motel.
This is an HDR (High Dynamic Resolution) image.  Four shots at different exposures combined into one.  Hope to do more of these on our trip.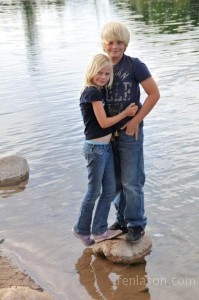 After we had "our kicks on Route 66" we went to Tingley Park. (Sorry… but I couldn't resist)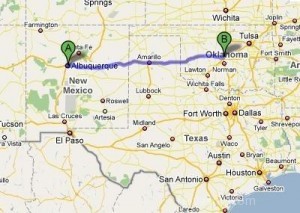 Day 3 route