Wow!  I can hardly believe it's July!  We spent the day learning about Mt. St. Helens.
Mount St Helens National Volcanic Monument
The hour-long drive from the park entrance to the Johnston Observatory (visitor's center) provided great views the dried mud flows that spread miles and miles of devastation after the initial volcanic blast May 18, 1980.  If you ask Alyssa, "When did Mt. St. Helens erupt?" She'll tell you, "On my birthday!"  The area has seen incredible regrowth in the last 29 years.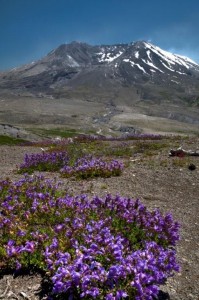 Mount St Helens from the Johnston Ridge Observatory at 4300 feet in elevation.  If you look close you can notice the steam coming from the top.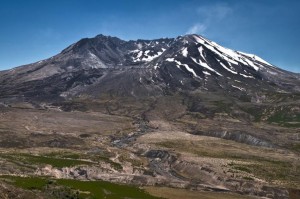 Mount St Helens from 6 miles away.
It's amazing to see wildflowers popping up in the middle of barren burnt mud/rock.
Before the eruption,  warning signs had been coming for months and the side of the mountain had been expanding 5 feet per day as the pressure built.   The initial lateral blast blew noxious gas and pumice 15 miles away at speeds up to 600 mile per hour.   Trees were sheared off their base and many still lay in perfect symmetry side by side on the hillsides as a testimony to the fierce power of the volcano.
You can see the clear distinction where the lush forest survived (in the foreground) and the bleak gray beyond leading up to the mountain's base.  Based on studies of other recent eruptions in other countries, they did not expect the danger zone to be as large as it turned out to be.  Because of this misinformation, 57 people (mostly researchers & others authorized to be there) lost their lives.
Coldwater Lake Recreation Area hike
Alyssa was playing ranger and telling us all about the area.  We asked what type of trees are these and she responded… green.  Good to know!
Coldwater Lake did not exist before May 18, 1980.  It was scooped out of the landscape as huge pieces of the Mt. St. Helens' summit scathed the earth with incredible force.  The glaciers & snow around the summit melted and caused a flood which filled every available crater including this newly formed lake.  The hike around the lake was so peaceful and the flowers were unbelievably fragrant.
The girls at the Johnston Ridge Observatory Visitors Center
Mt. St. Helens' height was reduced by 1,000 feet when it blew it's top.