Today we slept in a little then headed to Glacier National Park.  First stop: Apgar Visitor's Center where we picked up the kids Junior Ranger books.  We checked out the gift shops then headed to a lakeside picnic area for lunch.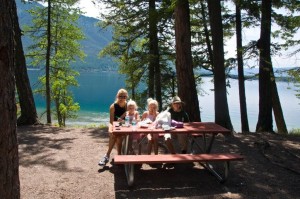 We joined a 2 hour Ranger-led hike (it ended up being just our family & the Ranger) and discovered the names of native wildflowers, trees, and wildlife.  The Ranger came equipped with bear mace and every time she approached a hill or curve in the trail would lead with a loud "Hey-Ho," which we mimicked even louder, to ward off any bears.  They have both grizzly's and black bears in the park.
The ranger, a volunteer for the summer, showing the kids how beavers make their homes and teaching them about the plants, flowers, and trees.
Next we continued east driving "Going To The Sun Road" towards Logan Pass.  We stopped many times for short hikes along the way.
We enjoyed watching this moose look for food.
The moose puts his head under water to forage for food.
These sure footed Mountain Goats reside at high elevations and are only found in North America.  They can be aggressive.  We watched a mother and kid goat roam for food.  Getting close to them was a little tricky.
These Big Horn Sheep can weigh up to 500 pounds!  The males have the curved horns.  Females have horns, but are smaller with only slight curvature.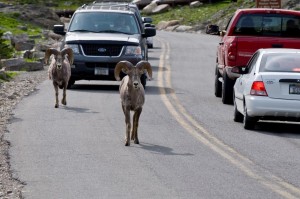 This must be one of those new energy efficient "two-sheep power" vehicles Obama is rebating.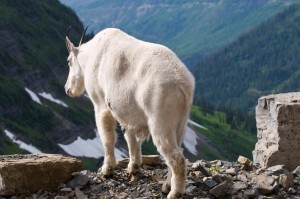 "STOP!  Don't do it!  You have too much to live for…. tomorrow is a new day!"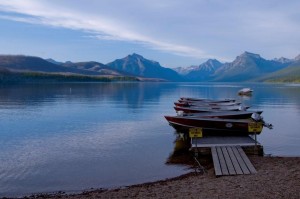 We ended the day with a sunset gaze at McDonald Lake.
We didn't see any glaciers . . . rumor has it they are disappearing and by 2020 (only 11 years away) there will be NO MORE glaciers left here.  Maybe they'll rename the park "The Park Formerly Known as Glacier." When we left the park at 9:00 p.m. there was actually a line of cars still entering (as they get 2 million visitors a year).  We'll have to come in May next time 🙂