Today Rochelle & I went on a hike in Glacier National Park while the grandparents (Poppi & Amma) watched our kids.
Hike: "The Loop"  Highline Trail to Granite Park Trail
Distance: 11.6 miles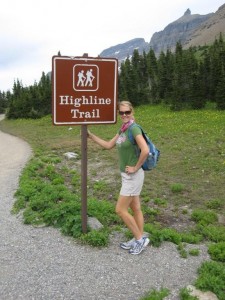 Rochelle at the trail head near Logan's Pass (1.5 hours from the West Glacier park entrance)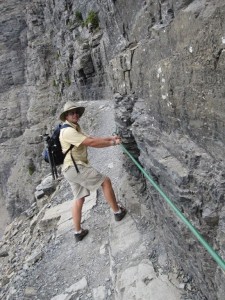 The narrow paths and steep drop-offs require a cable for security.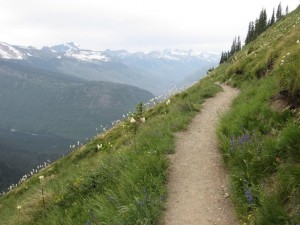 Before long we learned where the Highline Trail got its name.  The path is only a couple feet wide and winds along the edge of the Garden Wall.  The Continental Divide runs along the ridge to our left (not pictured).  At this point we're  just a couple hundred feet directly above Going To The Sun Road.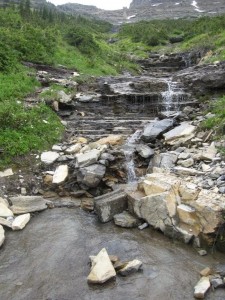 One of many waterfalls on the hike.
Rochelle hiking through the snow–no one warned us about this, but we did hear that some of the roads and trails opened only a few days before our arrival.
We saw lots of wildlife.  Above are a marmot (left) and mountain goat (right).  See videos below:
Marmot on Highline Trail – Glacier National Park – Wyoming
Mountain Goat on our hike in Glacier National Park
Views from Trail (left).  You can see the Granite Park Chalet in the distance (right.)  This chalet can only be reached by hiking a moderately strenuous 7.6 miles from Logan's Pass or a very strenuous 4.0 mile 2,200 foot ascension (depending on the entrance.)  They have a large dorm-style lodge which rents a bunk for $80 per person!  You need to book almost one year in advance to reserve your spot–sorry, no WIFI service or cellular reception.
On Granite Park Trail headed down the mountain–2,200 descent over 4 miles.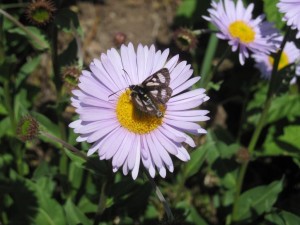 We got down at 5:45 after hiking 11.6 miles in 5 hours.  It was a fun, exhilarating, and exhausting hike–can't wait to do it again . . . next year 🙂
Tomorrow we will head east and south to Idaho Falls, ID