This morning before we left Silverton we ran back into a few stores so Jordan could buy the cap gun he had been eying and Rochelle picked up a flower bracelet.   Then we hit the Million Dollar Highway one more time to head into Ouray (pronounced "You-Ray")–our destination for the next several days.  Ouray is the jeeping capital of the U.S.  We're excited to get up onto the mountain trails!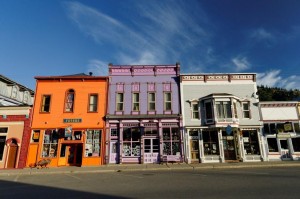 Downtown Silverton Tuesday morning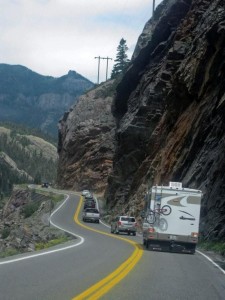 Our motor home traveling on the Million Dollar Highway to Ouray.
After settling into our KOA campground Rochelle ran into a hail storm while grocery shopping with the kids.  It was 74 degrees when we entered the store, but it was 54 and raining & hailing when we attempted to exit!
Video of the hail storm in Ouray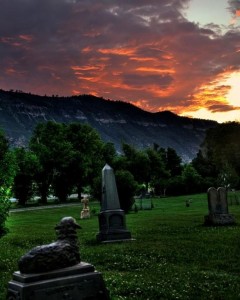 Sunset shot of a cemetary in Ouray.  I was looking for a place to photograph this amazing sunset… it was setting quickly so I pulled into Ouray's cemetary for this shot.  Although I was hoping for a nice mountain sunset picture, I think this photo has an interesting dramatic effect.