This morning brought an impending cold-front of thick clouds which dispensed rain, hail, and lightning.  By mid afternoon we were enjoying 54 degree mountain weather.  Not a great day for family hiking.  So we did the "tourist thing" and toured the Matchless Mine and the National Mining Museum.
The Matchless Mine is located just 3 miles from the main part of town.  The history books proclaim the wealth and extravagance of the Tabor family was due to the prosperity of the Matchless Mine.  Horace Tabor bought the mine for $117,ooo in 1878 and produced silver totaling $14 million (approximately $332 million in today's dollars!)   When Tabor married "Baby Doe," he was 50 and she only 25 (both their 2nd marriage).  She wore a wedding dress which cost $7,000 (in 1878 money.)  Their first child Lilly was Christened in a $15,000 gown and her diapers were held together with solid gold diaper pins.  Among many of their philanthropic endeavors they built the $700,000 Tabor Opera house which still stands in Denver.
In 1893 the silver market crashed.  Horace died in 1899 and his wife was reduced to living alone in this shack (above).  "Baby Doe" stubbornly held on to the romantic notion that the Matchless Mine would produce again, but died penniless in 1935 frozen to death during a 5-day blizzard.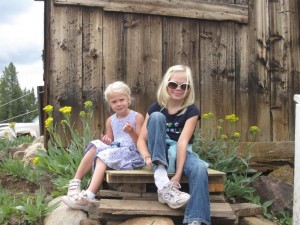 While the adults stood around the tour guide, the two girls wandered off and found a place to rest.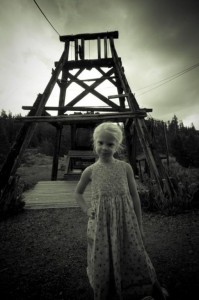 (above) Here pictured is Lilly Tabor in front of the actual Matchless Mine circa 1886 (5 years old).  We thought she had a striking resemblance to our own cute little 5 year old.
Next we headed downtown to the National Mining Hall of Fame and Museum.
This place is much larger than it looks from the front and contains four floors each with a different mining theme.  The lower level held a large replica mine (pictured above–Carlye kissing "Jack"  the hard working miner's mule while Alyssa pets him).
(left) Replica train carrying silver ore through 1880 Leadville. (right) Real samples of minerals and gems found in mines throughout the country.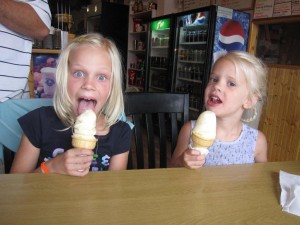 Every kid wants ice cream on 54 degree day, right?  These Florida kids have totally acclimated to mountain weather.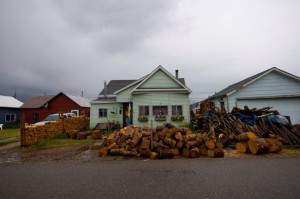 Think it gets cold in Leadville during the winter??  It's only July, but as every Michigander knows–you've got to cut wood while the sun shines.
(left) The lingering cold front weighs heavy on the distant mountain peaks.  (right) One of many abandoned homes near obsolete mines.
(left) More wreckage from old mines.  The last one closed in 1985 and some are actually in the process of reopening.  (right) Amma & Jordan look for pieces of broken pottery & glass near a home site.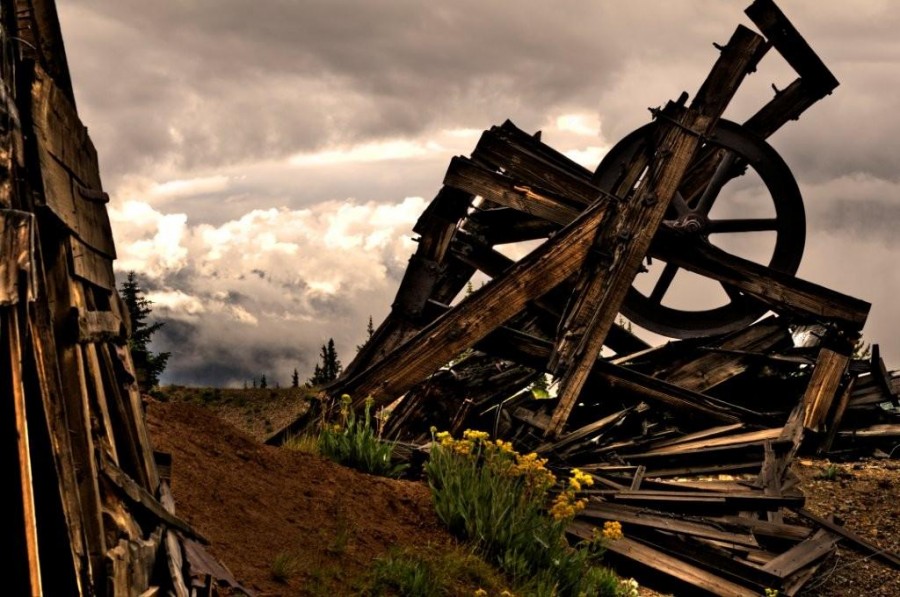 The setting–heavy clouds, warm rays of late afternoon sun, and 100 year-old structures–make an ideal photo op!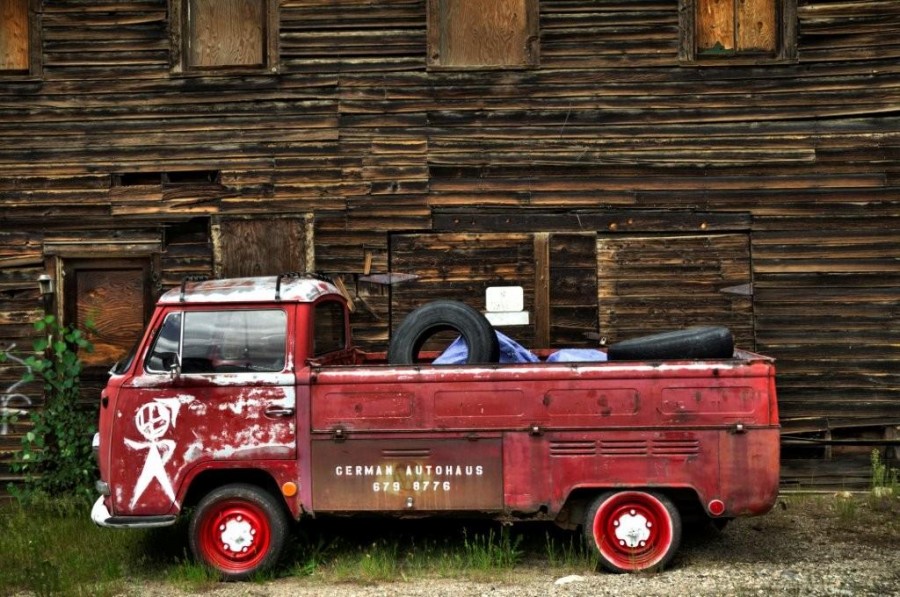 You can get a great buy on this old truck–but you'll have to tow it all the way home.
We found a great local pizza place an had a fun dinner out with Jarred's parents and Jarred's aunt & uncle.  We'll have one more chance tomorrow morning to hike this area (hoping for clear skies) then we'll head to Colorado Springs.