Today I got up at 6:00 AM to hike Mayflower Gulch while Rochelle and the kids went sightseeing around downtown Leadville.  Mayflower Gulch is in the Ten-mile Mountain Range and is abundant with wildflowers and small creeks with the mountains framing it in.  Once you arrive in the gulch after a 45 minute hike up the tree covered trail you are greeted by the remains from an old ghost mine–The Old Boston Mine.  I hiked about 8 miles, but it goes much further.  Hiking at an elevation of 11,500 feet is a little different than in Florida!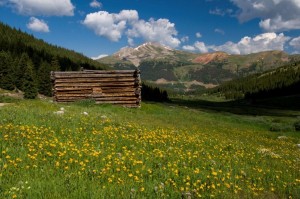 Mayflower Gulch looking at partial remains of the Old Boston Mine.
Wildflowers on the mountain side at Mayflower Gulch. (right) Columbine.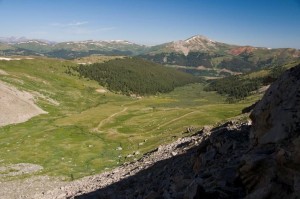 View from the hike on Fletcher Mountain–I came from the far side of the forest area.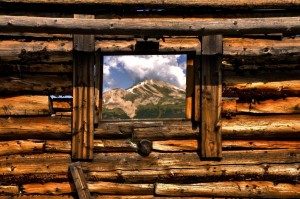 Mountain range shot through the old ghost mine remains.
I got back at noon and met up with Rochelle and the kids.  The girls found some great deals downtown.  Carlye bought a beautiful purple princess dress for $5 at a church thrift store!  She wore it the rest of the day.
We packed up and left for Colorado Springs, a 2 1/2 hour drive through the mountains.  We went through two mountain passes, saw an antelope (first one I've seen in the wild) and a coyote.  We got to Colorado Springs and checked into Garden of the God's Campground.  This is Rochelle's favorite campground–2 heated pools & hot tubs, central fire pits, spacious playground, large 25 cent arcade & game room w/ pool tables, puzzles, and board games.  We stayed here two years ago & couldn't wait to get back.
Garden of the Gods' red rocks glowing in the late afternoon sun.
These rocks are soooooo much fun to climb!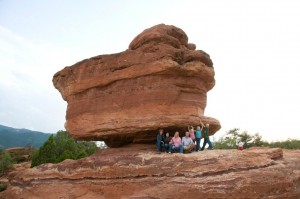 Jordan, Carlye, and Alyssa try to hold up "Balancing Rock" so it doesn't squish the rest of us 🙂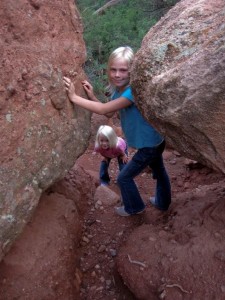 "Alyssa!  Meet me in hideout 2258!"
Alyssa fell 3x and scraped up her hands climbing up & down the rocks, but she would not give up following her big sister Carlye as they discovered (& gave code names to) many different "hideouts"   in the rocks.
When the sun set, we took a quick drive to the old town of Manitou Springs.  Here they have 10 mineral water springs where carbonated water freely flows throughout the city and is provided for free to the public through these ever-flowing fountains (below).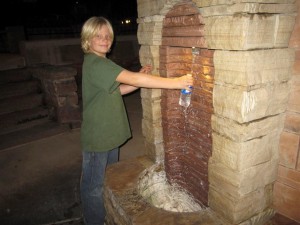 Jordan (who doesn't like the taste) was happy to capture the water from Shoshone Spring into his empty bottle and give it out to the rest of us.  We'll explore this town some more tomorrow in the sunlight.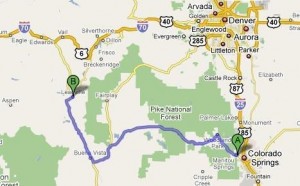 Route Day 59 (Leadville, CO to Colorado Springs, CO) from B to A.