Wow… 60 days in a motor home with 5 people and a dog and we haven't hurt each other yet!  (well… at least seriously) 🙂
It rained and rained and rained . . .but the kids didn't care.  They made friends at the playground and introduced the new kids to their lizards.  The lizards were a hit and the group created a 6-part play with the lizards center stage.  See video clip for a sampling 🙂
We joined John & Suzi and John & Barbara for dinner downtown Manitou Springs at the famous Stagecoach.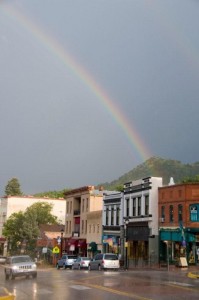 We saw a double rainbow over downtown Manitou Springs.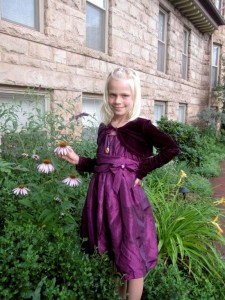 Carlye admiring the purple flowers.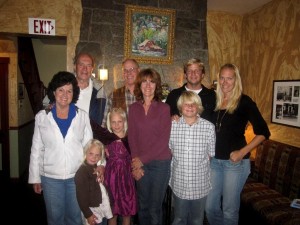 Posing in front of the fireplace at the Stagecoach Restaurant.
Later we joined another family's campfire–it was too wet to start own after dinner.  Tomorrow we will head towards the Denver area to get a little closer to the airport as the Briggs fly out Thursday morning.