Travel through the U.P. of Michigan to Wisconsin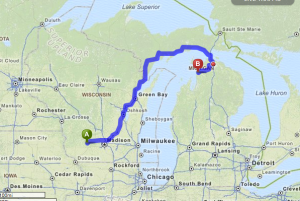 Crossing the Mackinac Bridge is always a breathtaking experience!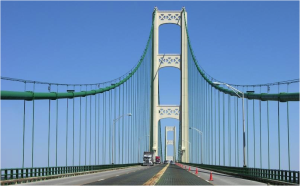 It's the 5th longest suspension bridge in the world; longest in the U.S.
We climbed the amazing viewing tower located on the shore of Lake Superior, took a family selfie and…
…a drone shot with the bridge in the background. Jarred and I climbed this very same tower 23 years ago when we were dating.
We stopped for Michigan-famous pasties (pass-tees) filled with beef, potatoes, and onions wrapped in a flaky crust–a Yooper classic! (Can you figure out what a Yooper is?)
Next stop: House of the Rock
Legend says that the builder of this whimsical engineering feat was influence by his father's ideas learned as a student of famed architect Frank Lloyd Wright. The very low ceilings, walls, and floors were completely covered in red shag carpet. Dim lighting, low couches, and crazy collections of just about everything made this a very unusual kind of photo op!
We went through the place a pretty brisk pace and saw everything in about 4 hours (including a lunch stop). I (Rochelle) could have spent an entire day there!
Our campsite at Governor Dodge State Park was serene and relaxing.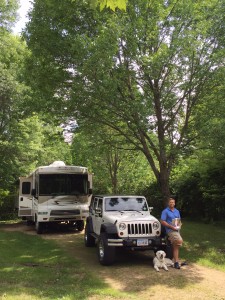 A short video clip of highlights from the first two weeks (Credit Jordan)
Long day of driving ahead tomorrow . . . heading for the Badlands of South Dakota.