I got up a sunrise to take more pictures of Horseshoe bend. There was too many shadows on the river so I waited until the sun rose to light the canyon 1,100 feet below. This picture has different lighting from the one yesterday that was taken in the evening.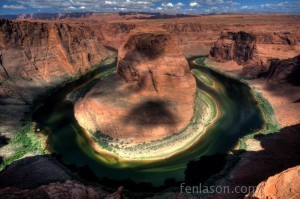 Next we took the Glen Canyon Dam tour and learned some interesting facts like $5 million a year is spent to maintain the dam and the power plant. But the hydroelectricity produced earns a dollar a second. How long before it pays back the yearly upkeep and makes a profit each year? We also learned that if you took all the concrete used to make the dam and turn it into a road, you could make a highway from Phoenix to Chicago!
The Glen Canyon Dam created Lake Powell (2nd largest man made lake in the US). It took Lake Powell 17 years to fill for the first time! This is also the Colorado River that flows through the Grand Canyon.
Glen Canyon Dam & Bridge (the bridge was made first to bring supplies to the other side for the dam construction)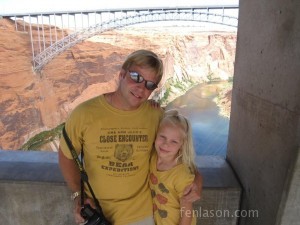 Carlye & I on top of the dam
Then we relaxed at Lake Powell for some fishing and swimming. The lake level is almost 100 feet below it's normal level so it was quite a climb down to the water. The petrified sand dunes were a fun to explore in between dips in the lake.