Today we left Page Arizona and drove 2.5 hrs. to Zion National Park.  To get to our campground we have to drive through the East entrance of Zion and exit through the South entrance to a small town called Springdale.  The only issue is the 1.1 mile long Zion Tunnel, built in 1930, that was made for cars of that era and not for 35′ motor homes pulling vans.  We were required to disconnect our van and have a ranger escort.  They actually shut down the oncoming traffic as we drove through.  Going through the Zion Tunnel in an RV… cost $15.  Being escorted through and driving in the center of the road alone… priceless.  (By the way this tunnel was built at a cost of $503,000 in 1930 making it, at that time, the most expensive mile of road in the US.)
Zion Tunnel (our motor home going through)
In Springdale we stayed at a great campground, Zion Canyon Campground & RV Resort, right on the Virgin River (our RV site actually backed up to the river).  It is only 1/2 mile to the park entrance.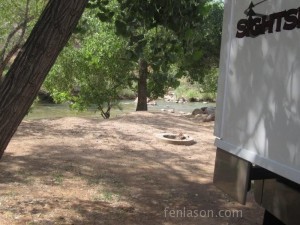 With a river, fire pit & picnic table we are all set!
Zion National Park is the most popular of the five Utah National Parks.  The likely reason for this is the close proximity to a freeway (I-15) and the myriad of adventures in the park.  Visitors come to hike, tube, mountaineer, and simply to be awe-inspired by the mountain grandeur. It's a great place for photographers too 🙂
After settling in we went to the visitor's center to get orientated with the park.  Zion is a part of the Colorado Plateau like many other National Parks of this area including Grand Canyon, Canyonlands & Arches.  The difference in Zion is we actually hike (and drive) in the canyon bottom–looking up–as opposed to most other parks where the view is down from the top.
From the visitors center we went on an easy evening hike of the Pa'rus Trail.  It is a 3.5 mile round trip hike along the Virgin River.  Carlye road her bike and I enjoyed taking pictures while Alyssa and Rochelle were having fun together.  Jordan elected to stay at the motor home (he was tired.)  It was a beautiful hike and just as we got to the car to head back it started pouring.  We must have received 1/4 of the annual average 12 inches of rainfall!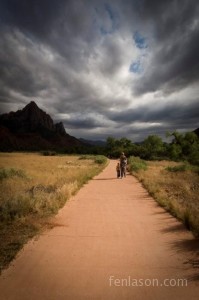 Rochelle & Alyssa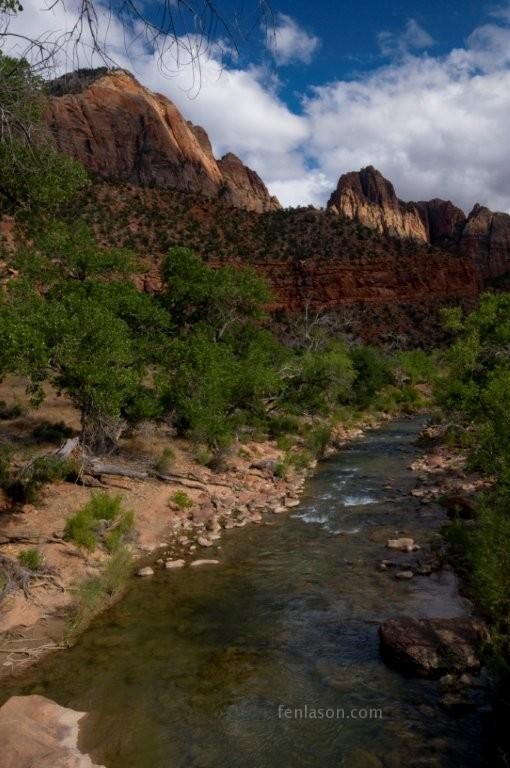 the Virgin River (view from a small foot bridge–1 of 5 times the Pa'rus Trail crosses the river.)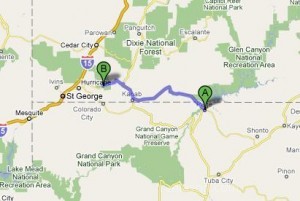 Route Day 11