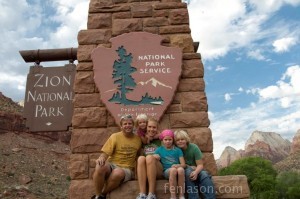 Today we parked at Zion's visitors center and rode the tram to different trail heads throughout the park. In 1920 Zion had 3,692 visitors. By 1930 55,000 and in 1990 more than 2 million people visited causing congestion in the park and the need for the shuttle system which opened in 2000. They don't allow personal vehicles in most of the park. It reminded me of Fort Wilderness @ Disney World . . . everyone waiting for the shuttle on rustic-looking benches along meticulously manicured roads.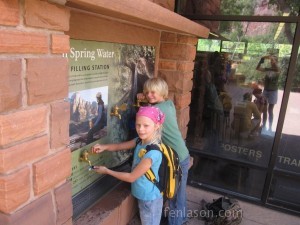 Filling up our Camelbak's at the visitors center.
The first stop was the hike to Emerald Pools where a beautiful waterfall fell from overhead . . . well at least that's what the map said… we're thinking that must be what happens in the rainy season.
Lower Emerald Pool Hike (1.2 mile easy hike)
See the rushing waterfall above?  Maybe its flowing too fast for my camera to capture…
The second stop was the hike to Weeping Rock where the sandstone has been saturated and water is now seeping from the rock creating a sort of "hanging garden."  They claim this to be one of the most popular hikes in Zion.
Our third hike was the most fun as we traveled along the Virgin River while the Canyon walls began closing in on both sides. The trail ended—or rather continued—into the river itself and splashed on both canyon walls. We wanted to continue on with the other adventuresome hikers—some dressed in wet suits—but the kids were exhausted. This river trail continues on for 15 miles into a prime photographic sight called "The Narrows." Maybe next time when the kids are older…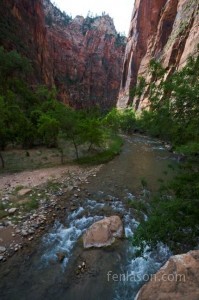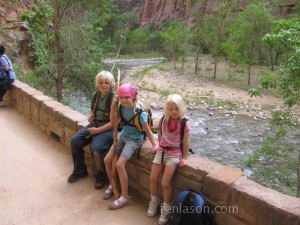 Riverside Walk – 2 Mile hike until the path leads into the river.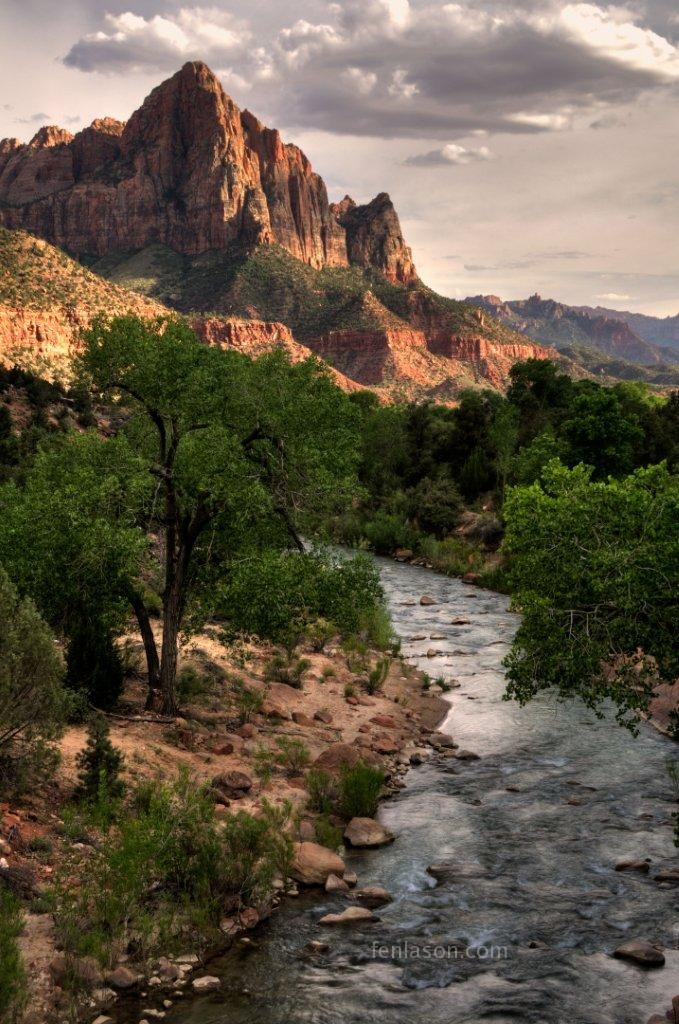 "The Virgin River meanders among the commanding presence of Watchman mountain"
This is a classic shot from Zion National Park I had to get.  I visited this location on three occasion taking multiple (ok… over 100) pictures waiting for the right lighting on the Watchman.
When we got back we relaxed at the campground around our first campfire of the trip and made smores—yum!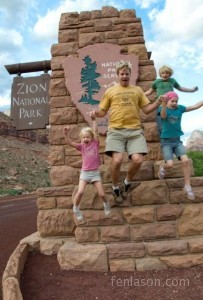 A note from Jordan to his friends:  "Hi peeps this Jordan typing.  I haven't typed on the blog yet so I am happy but I am already out of ideas so peace out!!"