Yeah!  We slept in today until 10:00.  We were all so tired, but now are refreshed and ready to go.  We left our campground in Springdale, UT and headed for Bryce Canyon National Park.  It is a few hours drive.  The drive was beautiful with lots of lush farms with mountains in the background.
We found a great campground only 1/2 mile from Bryce Canyon National Park.  They only had one space left for one night… just enough.  After settling in we headed to Bryce's visitor's center to learn about the park.  The kids got their Junior Ranger workbooks so they could earn their Junior Ranger badge.  They've been doing this at the National Parks.  It entails filling out a workbook on the park, listing to a ranger's talk, picking up trash in the park, and finally taking the Junior Ranger oath.  Fun for them and keeps them entertained.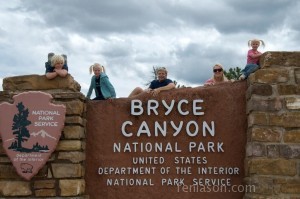 Bryce Canyon is a lot easier (with kids) then Zion.  Basically it is a 18 mile road with viewpoints.  Most viewpoints have hikes ranging from easy to strenuous.
After the visitors center we headed to a few lookout points to watch the sun set.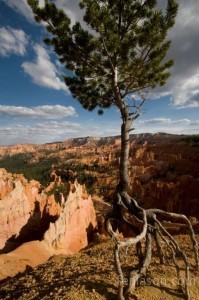 This picture was taken at Sunset Point overlook.  The small Limber Pine is almost 100 years old.  It looks as if someone was pulling it up out of the ground, but actually they say this shows that the Brice Canyon rim is eroding 1-4 feet every century.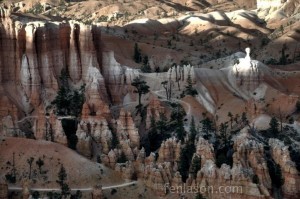 This picture from the overlook kind of reminds me of Whoville from Dr. Suess.  See the tiny trees and formations with the winding road.
That night at 8:30 we attended a "ranger talk" at the visitor's center describing how Native Americans used astronomy in their everyday lives for crop planting, etc.  After the talk at 9:30 we got to look through high powered telescopes.  They had 4 set up (brought in by volunteers).  We first saw Saturn with its ice rings.  It was incredible.  Did you know that if you lined up 10 earths it would equal Saturn's diameter?  Next we saw the M13 globular cluster.  This cluster contains over 1 million stars and is 100 light years in diameter.   The next telescope was pointed at the Whirlpool Galaxy (M51a.)  Although somewhat faint, it was complete with its spiral arms.  Lastly we saw the Sombrero Galaxy located in the constellation Virgo.  It was an amazing night.  They say that this is one of the best parks for star gazing.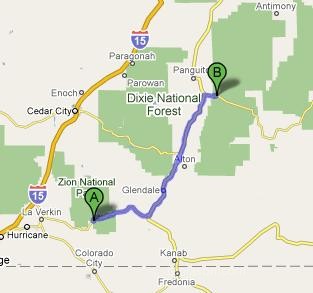 Route Day 13 (Zion National Park to Bryce Canyon NP)