We met up with John & Suzanne here in Salt Lake City.  Saturday morning–a great day to sleep in, clean the motor home, try to fix the giant crack in our windshield,  and get laundry done.  We couldn't fix the crack.  But we accomplished the rest while  Poppi & Amma took the kids to the Hill Air Force Base and Aeronautical Hands-On Museum.  They got to sit in the cockpit of a fighter jet and dress up like astronauts.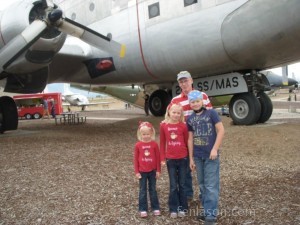 Later we all toured the downtown of Salt Lake City.   The city is surrounded by mountains that still have lots of snow on the peaks.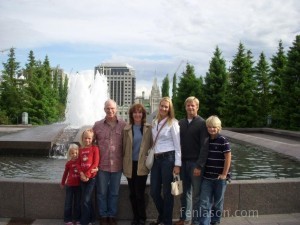 The streets, sidewalks, buildings, and grassy areas were all super clean and meticulously manicured.  The average age of SLC residents is 34 years old.  It's a very "hip" town with little cafes, coffee shops, and stylish shopping centers.   We went out for dinner at Noodles & More—a new concept in semi-fast food where you pick your type of noodles (or rice), sauce, veggies, and protein (meat or tofu).  We're thinking we should open one in Stuart.