Today was a long 12 hours of driving.  We left Carson City and got on I-80 driving west through the Sierra Nevada Mountains.  One would think that an interstate would be smooth sailing for our motor home… not so.  This was a very rough and bumpy interstate that shook and rattled our vehicle for what seemed like miles on end.  In fact we shook so bad that our locking pin that connects our tow bars to our van somehow fell out.  How a heavy duty locked pin fall falls out is a mystery.  Our tow bar fell to the street and our van was only held on by our safety cable.  With the van swaying back and forth I tried to slow to a stop as the van hit our motor home twice.  While it damaged the van and motor home, we praise God that everyone was safe.  It could have been much worse.
From I-80 (at Sacramento, CA) we headed north on I-5 to Redding CA  Here we embarked on a rather precarious journey west on 299 where the California Coast Ranges meet the Cascade Range.  It is a breathtaking two lane road comprised of hair-pin turns following the river.  To get a straight run for 30 seconds was welcomed sight.  This is where I wish I could have snapped my fingers and been on my motorcycle to enjoy the road…  After about 3 hours of intense concentration we finally arrived at the Pacific Ocean.  As we turned north on 101 and rounded a corner, we found ourselves gazing on the most awing view of the Pacific Ocean.  Another 45 minutes of driving and we found our way to Kamp Klamath nestled in the Redwood National Park between the Klamath River and the Pacific Ocean.  The kids found a "hidden path" through the woods where wild raspberries grew in abundance.  Jordan set his sights on gathering firewood . . . it was only 50 degrees when we arrived at 7:30 tonight.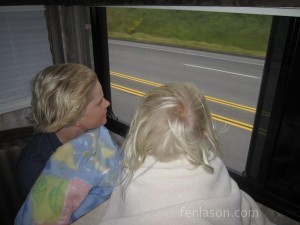 Kids looking out window as we approach the coast (the weather suddenly got cooler as we drove through a cloud).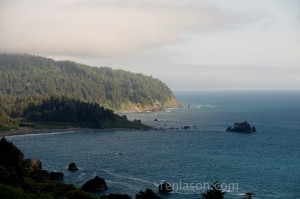 Pacific Ocean in Northern California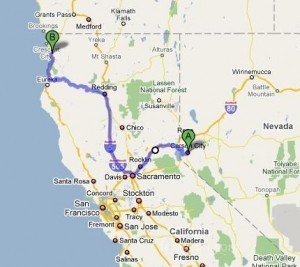 Route Day 18