Quite spontaneously we decided to pack up the Winnebago this morning and move north.  We stopped in Crescent City, CA for the day and explored this part of the Redwood Forest (Jedediah Smith Redwoods State park) and took the Howland Hill Road (below).   This narrow packed-dirt road is the original logging road used since the 1880s.  No, we did not drive the motor home down this one-lane road.  But we figured what's the worst that could happen to the van now?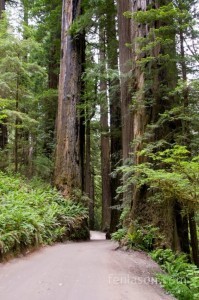 [Howland Hill Road]
We hiked the Boy Scout Trail (below) that took us under monster fallen trees, over babbling brooks, and through lush ferns.  These tree each drink 500 gallons of water per day!
Some interesting Redwood facts:
They grow to 300-400 feet high (think: 30 story office building)
They take 400 years to get to that height & can live to be 2,000 years old
The base is 22 ft. diameter & the bark is 12 inches thick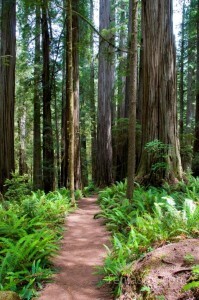 [this is one of flat areas of the hike.]
[Carlye atop a fallen Redwood]   [Alyssa bravely leads the way across a rickety bridge]
[Jarred among the giant ferns]                                    [Jordan, are you lost?]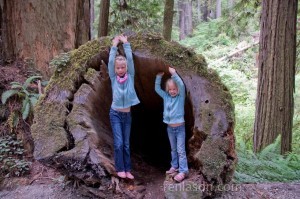 [So many of the fallen trees as well as quite a few alive standing ones were hollow in the middle.  Their root system is only 10-13 feet deep, but the roots spread out 60-80 feet.]
Crescent City is known for its crabbing industry and *whew* could you smell it.  Reminded us of  the show "Deadliest Catch."
[It was soooo windy and cold–you can see Alyssa shivering as she bravely climbed atop these crab trap so Daddy could get a photo.]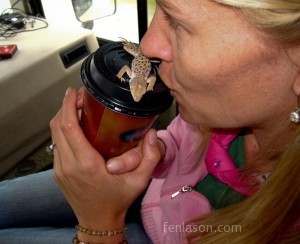 ["Z" the Lizard was shivering too, so Jordan thought that he might enjoy the warmth coming from Mom's coffee cup–and it sure did.]
We left California for Grants Pass,OR and drove on a treacherous, winding, twisting, up and down road that followed the river.  Thank God for Interstates!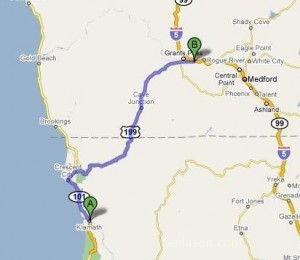 Route Day 22 (Klamath CA to Grants Pass OR)