What a day . . . sunny blue skies, 78 degrees, and 55% humidity . . . perfect for exploring the Columbia River Gorge and hiking the water falls.  Sorry to our Florida friends enjoying 90+ degrees and 95% humidity! 🙁  The state park entrance is only 20 min. east of the RV park.  One side of the Columbia River is Washington and the other side is Oregon.
The second highest year-round waterfall in the US is Multnomah Falls.  The upper falls is 542 ft high and the lower is 69 ft high.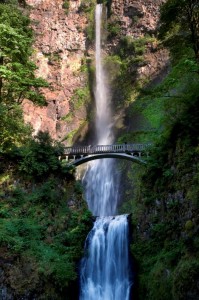 Multnomah Falls (Upper & Lower)–morning shot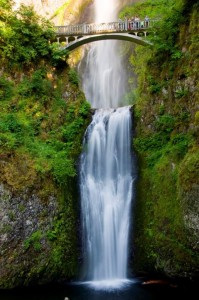 Multnomah Falls splashing into the pool–afternoon shot
Next we drove about 4 miles to Horsetail Falls.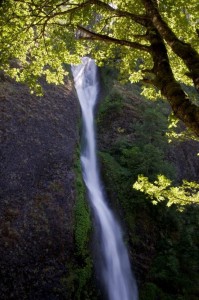 Horsetail Falls – Columbia River Gorge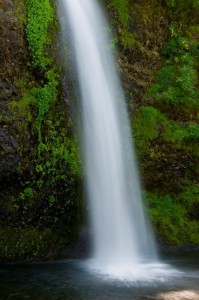 Horsetail Falls is 176 feet with a pool at the bottom for swimming, but it was too cold for us! 🙂
Hiking up the path from Horsetail Falls we came to Pony Falls.
This picture is from behind Pony Falls shooting out toward the valley.  (I combined two pictures to get the exposure correct).
We drove a few miles to the next waterfall.  After a short hike up the side of the mountain we reached Wahkeena Falls.  Wahkeena means "most beautiful" in Yakama Indian. Wahkeena Falls tumbles 242 ft. down a mountain side.  The path takes you so close to the falls you can't help getting wet.  This makes it difficult to photograph.  (Hint keep the lens cap on until you are ready to shoot and have a lens cloth to keep it dry.)  It took me a few shots until I got one without without water on the lens.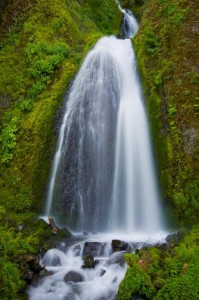 Wahkeena Falls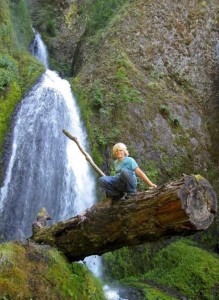 Jordan climbing a log about 20 feet off the ground.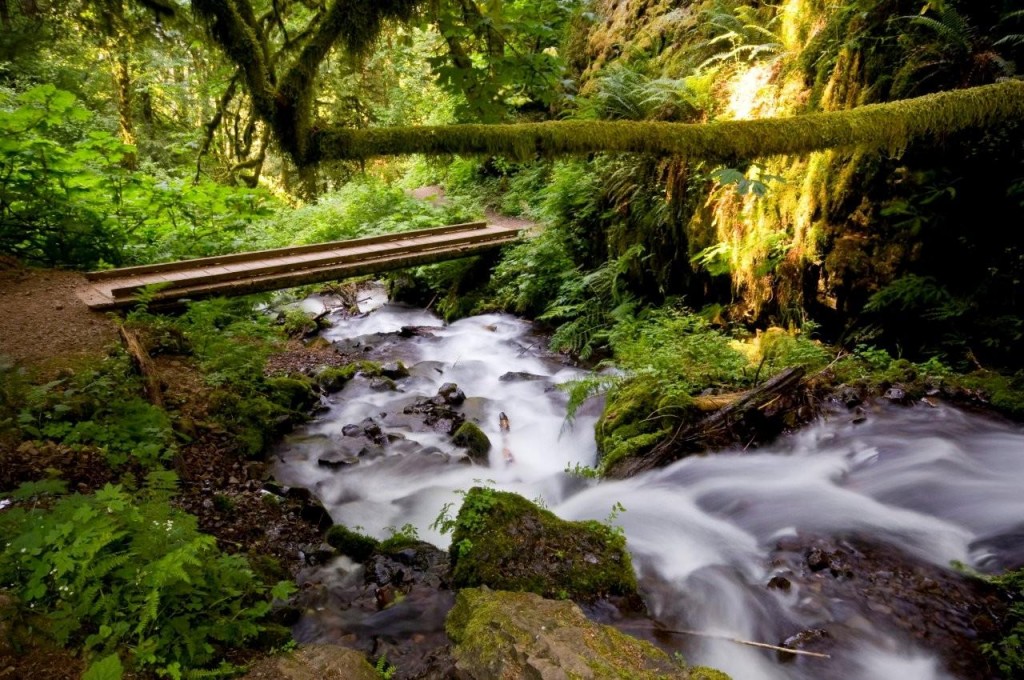 Continuing the hike up the mountain we followed a lush river trail.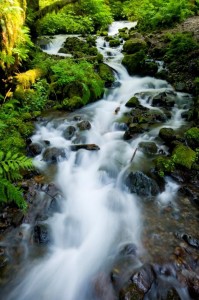 After enjoying the waterfalls we stopped at a local river for some Rainbow Trout fly fishing…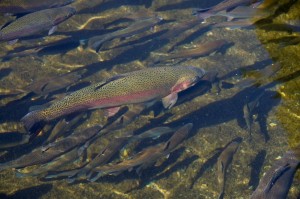 We wish… sorry Ken.  Just a little further east we visited the Bonneville Dam & Fishery.  We learned about how they raised and released the Coho and Chinook Salmon.    Quite an amazing process.  After the salmon are released they travel 143 miles to the Pacific Ocean only to return to the exact same spot a few years later… all without a GPS!  Imagine that!
They also had a 70 year old Sturgeon named Henry that was nearly 10 feet long!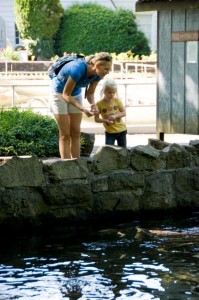 Mommy & Alyssa feeding the hungry rainbow trout.
Carlye made the keen observation that the people who run the Fishery were pretty smart to sell us the food  AND have us do the work of feeding their fish.
Tomorrow we will leave the beautiful state of Oregon & head north to Mt. St. Helen's in Washington.