Yeah!  No driving the motor home today!
5:00 AM comes early… but this is when Rochelle, Jordan & I got up to go to Arches National Park to photograph the arches as the warm morning sunlight hit the rocks.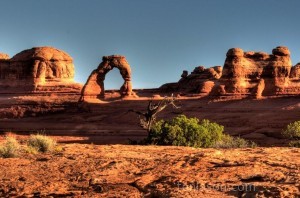 "Delicate Arches"  – the most popular arch in Arches National Park (only accessible by 3 mile hike)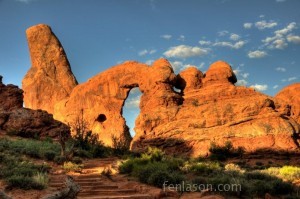 Torret Arch during early sunrise.
After the shoot we went back to our motor home for some R&R (including a short nap).  Around 3:00 we went back into Arches National Park to take a hike to Delicate Arch.  This is a four hour hike up the side of the red rock mountain.  The whole family went.  Alyssa (5) was amazing… singing and talking all the way up.  The site of Delicate Arch was breathtaking with over 30 photographers already sitting there waiting for the warmth of the sunset as it hits the arch.  Unfortunately the clouds blocked the sun except for a very short 15 second window when I got the shot below.  It was a very fun and rewarding hike.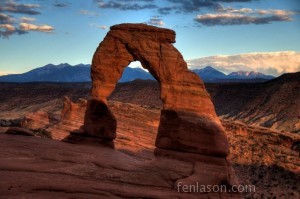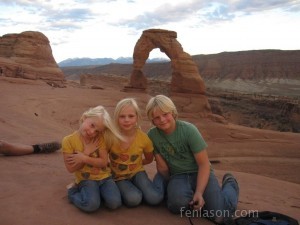 Jordan is holding up the 128 foot tall Balancing Rock! 🙂